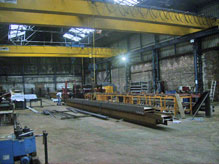 Adelphi Engineering & Construction are custom fabricators in every sense of the word. That means we have a total capability to work with you, and for you, in both fabrication and engineering! We can work from your drawings, or, if necessary, in order to expedite a particular job, we can field sketch to your approval, and then fabricate. Site installation is also part of our service. — since the founding of our company we have had a consistent record of on-time, quality service to a variety of major segments of Scottish business, including the automotive, chemical, food processing and pharmaceutical industries !!
We are a certified welding business — in fact, in accordance with the welding codes, complete testing facilities are available in addition bending, shearing, rolling and machining (our machining is done on premises), are all specialties of Adelphi Engineering & Construction. In addition, we are experienced in the fabrication of virtually all the metals and alloys required for industrial use, including stainless steel, the high-nickel alloys, carbon steel, copper and aluminium.
We have had broad-experience in meeting the demanding requirements of food-grade and pharmaceutical-grade fabrication; moreover, our experience also includes exhaust and fume collection systems and HVAC duct work !!
Workshop
Adelphi Engineering & Construction have a fully equipped workshops with all required tooling, equipment and machining facilities that include 2 to 30 tonne overhead cranes with 23,000 sq ft of manufacturing space. Our extensive equipment range allows us to handle vast parameters of work, in variable weights and quantities and with a further secure outside 36,000 sq ft yard facility for storage of goods and materials ensure we are the company of choice to work with.