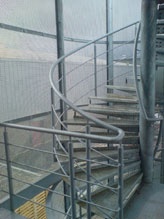 Adelphi Engineering & Construction's bespoke stair design team will dazzle you with the shine and glitter of steel and glass and 30 years of experience in the design, fabrication and installation of residential and industrial stair types including spiral, curved and straight staircases. We have personally designed and manufactured many unique, elegant and complex staircase solutions.
Stairs are a fundamental and universal features of buildings; they are usually the first item on view when entering.
we offer you the chance to create a stunning visual impact with unique bespoke staircases, combining exquisite design, peerless craftsmanship and cutting edge technology, to complement and enhance the architectural features you require. Our superior design, precise engineering, and careful construction have enabled us to supply staircases to the most prestigious projects around.
We offer a highly professional service that will bring together your style and design in a unique bespoke manufactured product just for you. By using our bespoke staircase design and manufacturing service, you can be sure that you will achieve exactly the staircase you desire.
Cantilevered Stairs
The impression of a floating structure can be enhanced by incorporating cleverly positioned lighting. A range of balustrading designs ensure the minimalist effect is not compromised.
This design can be used to create very varied effects, depending on the architectural space for which it is intended. Treads are available in beautifully grained hardwoods, intricate metal designs and in smooth concrete – cool and polished, or textured for a rustic effect.
A unique feature of this staircase is that the cantilevered treads are exchangeable, allowing for a completely new look in future years.
Glass Stairs
Spiral Stairs
Metal Stairs